Uwell Vape Yearn Neat 2 Pod kit 520Mah In Dubai, UAE
The Yearn Neat 2 Pod kit 520Mah is a pocket-friendly option that is simple to use. It features a built-in 520mAh battery and delivers a fixed 12W output, making it an ideal choice for MTL (Mouth To Lung) vaping. Kits include everything you need to get started, including the Yearn Neat 2 battery device and a 2ml refillable pod that can pair with a wide range of e-liquids.
Uwell Vape Yearn Neat 2 Features
Easy to use, comfortable in the hand
Beautiful metallic finish
0.9ohm mesh coil included for great flavor
Easy to use draw-activated technology
and magnetic connections
make the Pro-FOCS Flavor Testing System easy to use
Type-C port for fast charging
Yearn Neat 2 vape kit features inhale activation and is incredibly easy to use. You can inhale through the mouthpiece and the kit will produce a small amount of vapor.
The activation method offers a more natural feel – similar to that of a cigarette – while avoiding the need for complicated buttons and menu systems. The built-in battery allows for up to a full day of vaping, and the fixed power output means you'll experience more consistent vaping.
Physical Parameter
Size: 22.1 x 11.5 x 102.5mm
Capacity: 2ml
Resistance: 0.9Ω
Battery: 520mAh
Color: Green, Black, Orange, Red, Silver, Blue
Packing List
1 x Yearn Neat 2 Device
1 x Yearn Neat 2 Pod (Pre-installed)
1 x User Manual
Thanks to their built-in coil design, Yearn Neat 2 pods require less maintenance. Instead of a messy coil replacement, you can simply replace the entire pod when the coil becomes unusable. The 0.9 Ohm coil in each pod provides a balance between vapor production and flavor.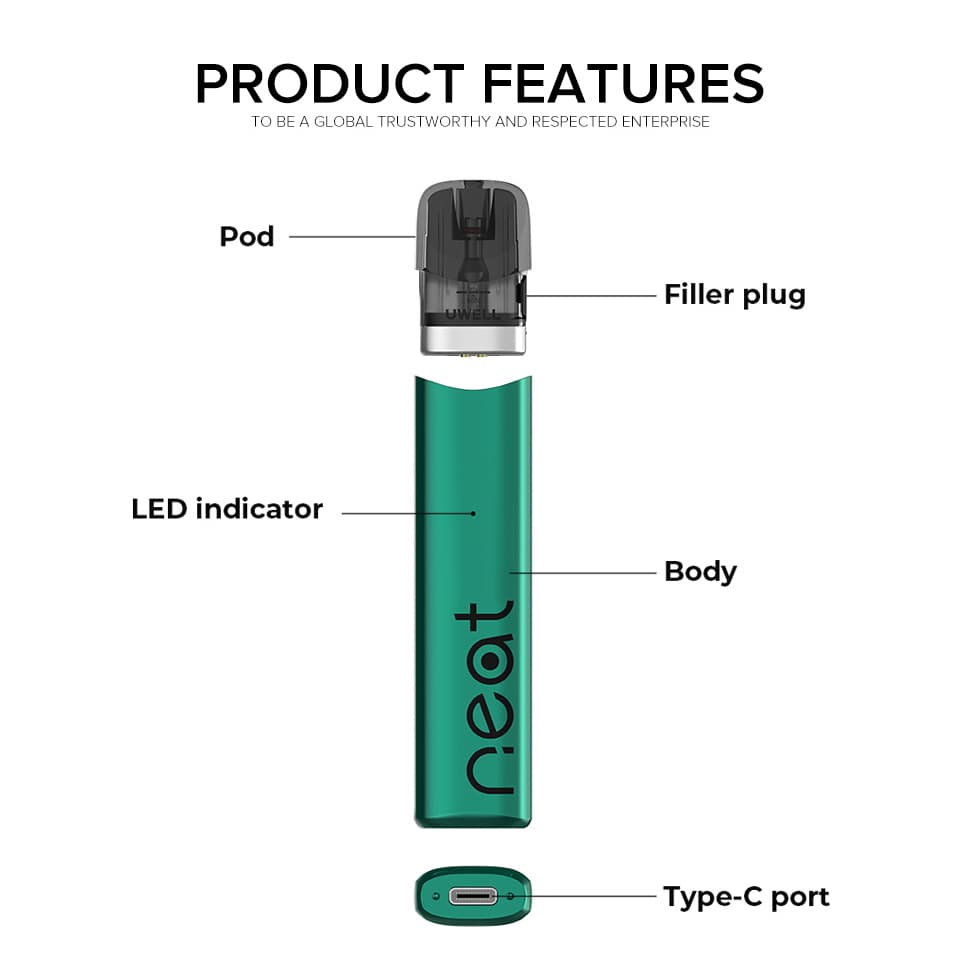 E-liquids that have a high PG content or are 50/50 are our recommendations, and Yearn 2 is compatible with both nic salts and freebase nicotine.